Er det kun taco som gjelder på fredager eller liker dere å variere litt? Her i huset er ikke tacofredag hellig og tror alle setter pris på litt variasjon 😉
Vi har blant annet to andre helgefavoritter som vi lager ganske ofte!
Jeg har delt begge rettene her på bloggen tidligere, men i tilfelle dere trenger litt inspirasjon til dagens middag, så får dere oppskriften på både søtpotet nachos og grove minipizzaer her♥
SØTPOTET NACHOS 
Har vært laget med bønner, karbonadedeig og kyllingkjøttdeig – like godt hver gang! Akkurat som nachos, samme fremgangsmåte, men med søtpotet i stedet for chips♥
Til en langpanne trenger du
To søtpoteter
Kyllingkjøttdeig, bønner eller karbonadedeig)
Tacokrydder
Løk
Chili
Ost
Skrell og kutt opp søtpoteter i skiver. Ca en halv centimeter tykke. Spre de på en langpanne og hiv de i ovnen på 200 grader mens du steker kjøttet med løk og chili, blander med krydder og finner frem ost. Når søtpotetene har stått ca 10-15 min, så sprer du over kjøttblanding og osten. Tilbake inn i ovnen til osten er gyllen! Så lager du gjerne en god guacamole og en frisk salat til♥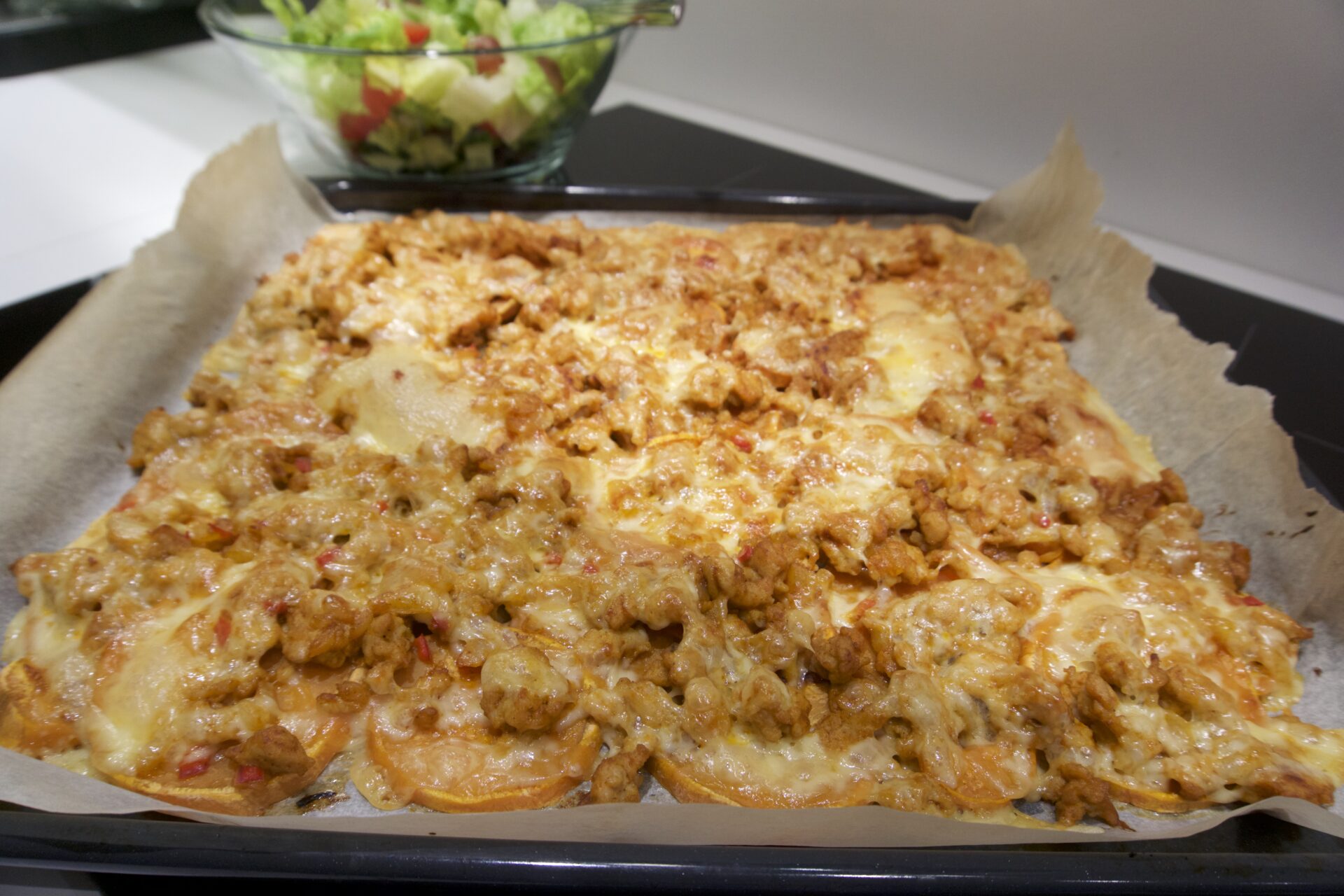 ---
GROVE MINIPIZZAER MED SPENNENDE FYLL 
PIZZADEIG
5 dl vann
1 pakke gjær
300 g hvetemel
400 g grovbakst (hvete og rug)
1 ts salt
1 ss olivenolje
Bland sammen alle de tørre ingrediensene før du tilsetter vann. Elt deigen godt for hånd eller med kjøkkenmaskin. Når deigen er smidig og slipper kanten av bakebollen elter du inn olivenoljen. Dekk bakebollen med et klede og la heve til dobbel størrelse i ca. 30-45 minutter. Del deigen i 8 like store emner og kjevl de ut til tynne bunner på ca. 20 cm i diameter. Ha på pizzafyllet og topping før du steker pizzaene midt i ovnen ved 250 ºC i 8-10 minutter.
TIPS TIL FYLL OG TOPPING
Jeg liker best enkel tomatsaus på pizzaen. Så i stedet for å begi meg ut på noe fancy greier med haugevis av ingredienser gjør jeg følgende: Jeg kjøper gode hermetiske tomater (Mutti er min favoritt), heler den over i et dørslag og lar den renne av seg overflødig væske i 15-20 minutter. Du kan også la den putre i en stekepanne for å redusere væsken, men det tar lenger tid.
Så smører jeg bare tomatsausen på pizzaen før jeg tilsetter andre godsaker!
For eksempel kan du gå får…
♥Tomatsaus, koktskinke, mozzarella, sopp og frisk spinat
♥Tomatsaus, serranoskinke, fetaost, sorte oliven og pesto
♥Tomatsaus, mozzarella, squash, avokado og pesto
♥Tomatsaus, parmesan, friske sherrytomater, frisk spinat og serranoskinke
God fredag fine folk♥
Jørgine